We are proud to announce that CarbonZero Global Conference and Exhibition 2022 will be held at Pestana Palace Hotel & National Monument. A world of luxury and elegance in a classic hotel, where comfort and well-being will have a new meaning after your visit. This luxurious and elegant hotel with wonderful views to the Tagus River is a privileged member of the 'Leading Hotels of the World' group and is listed as a Portuguese National Landmark. An exuberant private park surrounds the grounds with an abundance of subtropical plants and trees presenting a magnificent panoramic vista over the city of Lisbon.
Its wonderful location and facilities, excellent quality, standards and service are only some of the reasons why the Pestana Palace Hotel has received so many prestigious awards from different independent associations. The Hotel has also won several international competitions for their unsurpassed, fine dining.
There is a magical area in the old ballrooms of Hotel Pestana Palace Lisbon where you can taste a new level of Portuguese cuisine that breathes palace inspiration and French rigor, where columns and golden and rich capitals conjure Versailles. Breakfasts at the Valle-Flôr restaurant will leave an impression on all of your senses, not just your palate.
The Pestana Palace Hotel & National Monument enjoys a quiet location in Lisbon, in the area known as Alto Santo Amaro. Yet a short drive will take you to the best beaches of the coast of Estoril, Cascais and the fairy-tale palaces and castles of Sintra.
Lisbon's hustle and bustle, all its museums, many restaurants, bars, pavement cafés and busy nightlife is a mere 15 minute away either by public transportation or by taxi, never too expensive. The "Docas" of Santo Amaro is a well-known area in which to enjoy Lisbon's exuberant nightlife.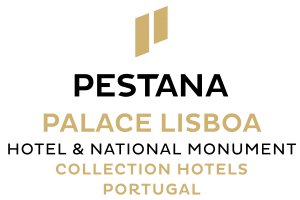 Also located near the Hotel, is Belém, home to the most significant historical treasures in Lisbon. Here you will find 16th century architecture, such as the Manueline styled Mosteiro dos Jerónimos, Torre de Belém and glorious Padrão dos Descobrimentos. The prestigious Centro Cultural de Belém  is the largest building in the country devoted to cultural facilities and is also located in the area, as well as the Casa Pastéis de Belém, where the famous pastries are made.
In order to make your visit the best experience possible, the Pestana Palace provides a shuttle for its guests, to make sure you don't miss a thing. The shuttle will make various stops throughout Lisbon's most appealing and relevant sites, and will give you the opportunity to obtain other amazing views of this one-of-a kind city, that will surely rise beyond your highest expectations.
Some of Portugal's best Golf courses are also a short drive from the Pestana Palace hotel as well as many other facilities to help make the most out of your trip whether it is pleasure or business related.
Lisbon International Airport is just 10 km away.
GPS Coordinates: Latitude N 38º 42.246 Longitude W 9º 11.216
Accommodation for delegates is included in the event registration fees.