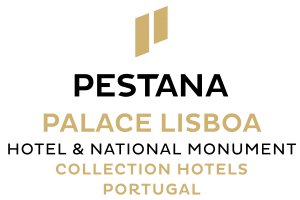 This luxurious and elegant hotel has wonderful views to the Tagus River, is a privileged member of the 'Leading Hotels of the World' group and is listed as a Portuguese National Landmark. An exuberant private park surrounds the grounds with an abundance of subtropical plants and trees presenting a magnificent panoramic vista over the city of Lisbon.
Its wonderful location and facilities, excellent quality, standards and service are only some of the reasons why the Pestana Palace Hotel has received so many prestigious awards from different independent associations. The Hotel has also won several international competitions for their unsurpassed, fine dining.
There is a magical area in the old ballrooms of Hotel Pestana Palace Lisbon where you can taste a new level of Portuguese cuisine that breathes palace inspiration and French rigor, where columns and golden and rich capitals conjure Versailles. Breakfasts at the Valle-Flôr restaurant will leave an impression on all of your senses, not just your palate.
Pestana Palace: A world of luxury and elegance in a classic hotel, where comfort and well-being will have a new meaning after your visit.